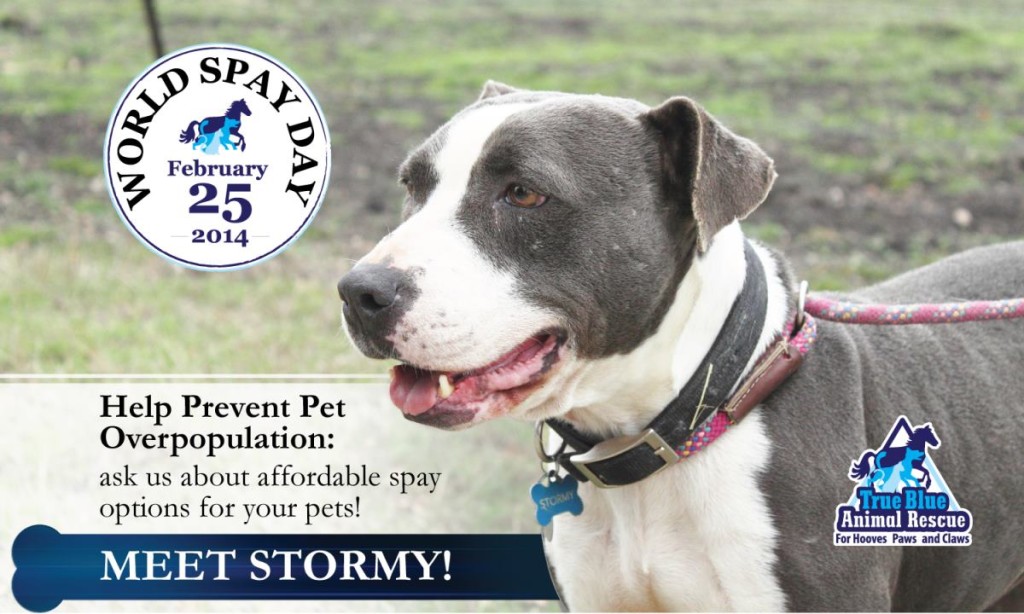 February 25, 2014 is "World Spay Day" as organized by the Humane Society of the United States and Humane Society International.
TBAR would like to take today to once again share our support for getting all animals spayed or neutered to help prevent pet overpopulation and increase the quality of life of your pet. Spay/neuter is a proven way of saving lives and an important part of our community outreach. Ensuring your pet does not procreate ensures that their offspring doesn't end up having offspring that end up homeless. In addition, animals that are fixed are less likely to have roaming urges (that end up in them getting into fights or hit by cars) and less likely to get certain types of cancer. We urge everyone to spay or neuter their pet, and to adopt new pets from animal rescues – there are more than enough to fill your hearts and homes!
TBAR has a special fund set up to assist people that need help paying for spay expenses. At this time, this fund allows us to pay for three spays a month using one of two low-cost clinics: The Animal Friends Connie Clinic on Hwy 36 in Brenham and CCC Clinic in Bryan (a new facility).
If you would like to donate to this fund you can do so by clicking here: Donate to the Spay/Neuter Fund
If you would like to apply for Spay Assistance please fill out THIS FORM and return it to help@t-bar.org
For more information on Spay/Neuter you can visit:
Why You Should Spay/Neuter Your Pet
World Spay Day
Here is a great video series from the Humane Society that gives great information about Spay/Neuter and aftercare for your pet:
Spaying or Neutering Your Pet
What it Means to Spay/Neuter
What to Watch Out For after Spay/Neuter
We hope World Spay Day has helped to encourage you to spread the word on the importance of Spay/Neuter!
Again, here is the Spay Assistance Form:
TBAR Spay Assistance Request Form