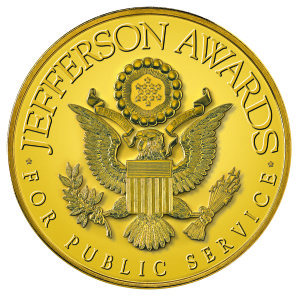 True Blue Animal Rescue founder, Melanie DeAeth, was awarded one of four local 2014 Jefferson Awards this past Tuesday (May 13). Melanie has spent the last 10 years in TBAR saving animals, leading volunteers, and educating the next generation to have compassion for animals.
According to the Jefferson Award website:
Founded in 1972 by Jacqueline Kennedy Onassis, Senator Robert Taft, Jr. and Sam Beard, the Jefferson Awards is America's highest honor for public service, a "Nobel Prize for public service". We are one of the largest multipliers of volunteerism in the country – with youth in communities and in workplaces. Over 41 years, we have recognized a "Who's Who" of American change-makers and more than 50,000 unsung heroes in grassroots communities. We accomplish that through a network of more than 110 Media Partners reaching into 30 million households. 
Starting six years ago, we began to transform into one of the nation's largest multipliers of volunteerism. Our goal is to Build a Culture of Service.  We achieve that in three ways – in communities through our Media Partners, in workplaces with Champions, and with young Americans through Students In Action, our Lead360 Challenge and GlobeChangers.
You can watch the full awards broadcast by clicking HERE
Large Group Pic of supporters and foster homes: Heather Beran, Colton DeAeth, Candace DeAeth, Dale DeAeth, Melanie DeAeth, Olivia Moore, Jason Moore, Mike Pulkkinen, Tammy Pulkkinen

Crystal Galny, Jerry Gritter, Carol Wagner, Melanie DeAeth, Jason James, John Gilbert


Dale and Melanie with Joanne and Charles Buck who are long time members and supporters and foster home.


Melanie with Sandy, who nominated her for this award!
We would like to extend Melanie a huge "THANK YOU" for all the animals that owe their happy life to her, and for all the children she is on a mission to educate. We would also like to encourage others to follow Melanie's lead and volunteer with animals and children to help build a better future. If you are interested in volunteering with TBAR, please email us at help@t-bar.org or call (936) 878-2349. The world NEEDS great people to volunteer so we can continue to do great things!